A teleprompter app for…
vlogging
social media
self-tapes
sermons
courses
business
Record videos in a single take
By reading from a teleprompter script you will remove the 'ums' and 'ahs'.
"It makes my videos so professional and I can finally 'remember' to say everything I planned to say."
Maintain eye contact with your audience
Read your script as it scrolls next to the camera in landscape or portrait.
"No one will know you are reading from a script"
The most loved by 60,000 people!
We are the highest-rated Teleprompter App with an average rating of 4.9 out of 5 from over 60,000 reviews on the App Store.
Here is what some of our customers have said:
Add subtitles automatically
After recording, add captions to your video automatically.
"I used it to record a video for a school project and it was very helpful. Not only did it show me what I was supposed to say, but it also added subtitles."
Import scripts easily
Use Dropbox, Google Drive, OneDrive, iCloud or any other Cloud provider to import scripts in docx, doc, rtf, txt, pdf or Google Docs format. Alternatively, email them to us and we will import them.
"I use it daily for Vlog post. The app is quick and easy to use. Also, the Dropbox import and upload feature increases my productivity. Awesome work."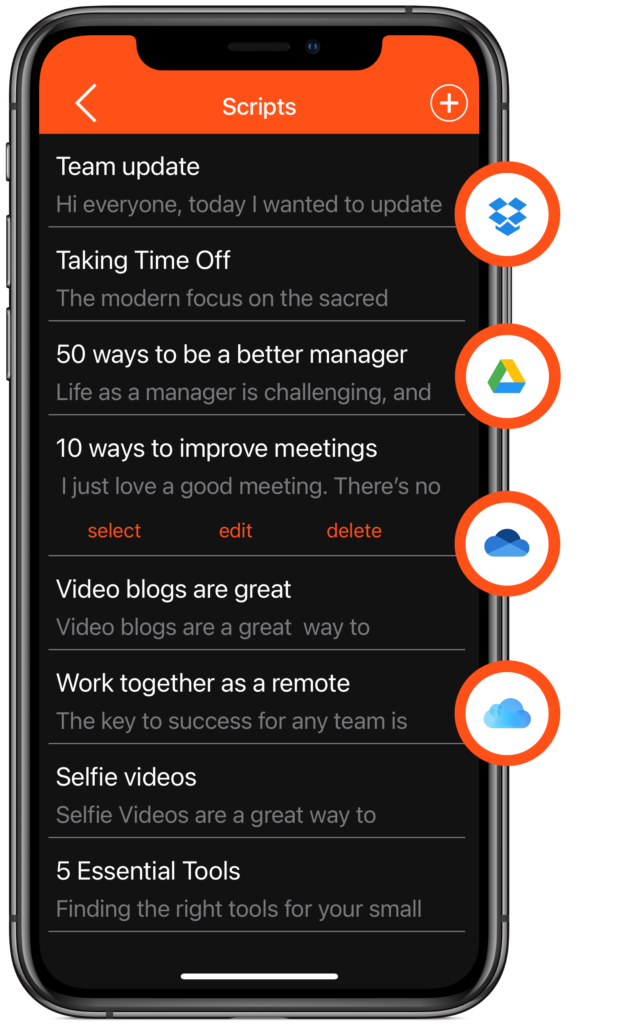 Record in High Definition or 4K
Pixel perfect videos to match your word perfect speech.
… and much more
It's so simple… just

Read

and
Record