The Teleprompter for Video app gives you the option to automatically add subtitles to your videos after recording. This post shows you how to add subtitles as well as some tips to ensure they are perfectly aligned to your speech.
First, you must record your video.
After recording, you will be taken to the preview screen where you can choose to Save, Share or Add Subtitles.
Tap the Add Subtitles button and you will be presented with some options to set the appearance of the subtitles. You can choose:
Once you've selected these options, tap the Add subtitles button to add the subtitles to your preview video. This can take a little time, depending on the length of your video and the video quality, please do not close down the app while this is processing.
Once it has finished, you can preview the subtitles in the video window.
When you are happy them, tap Save or Share.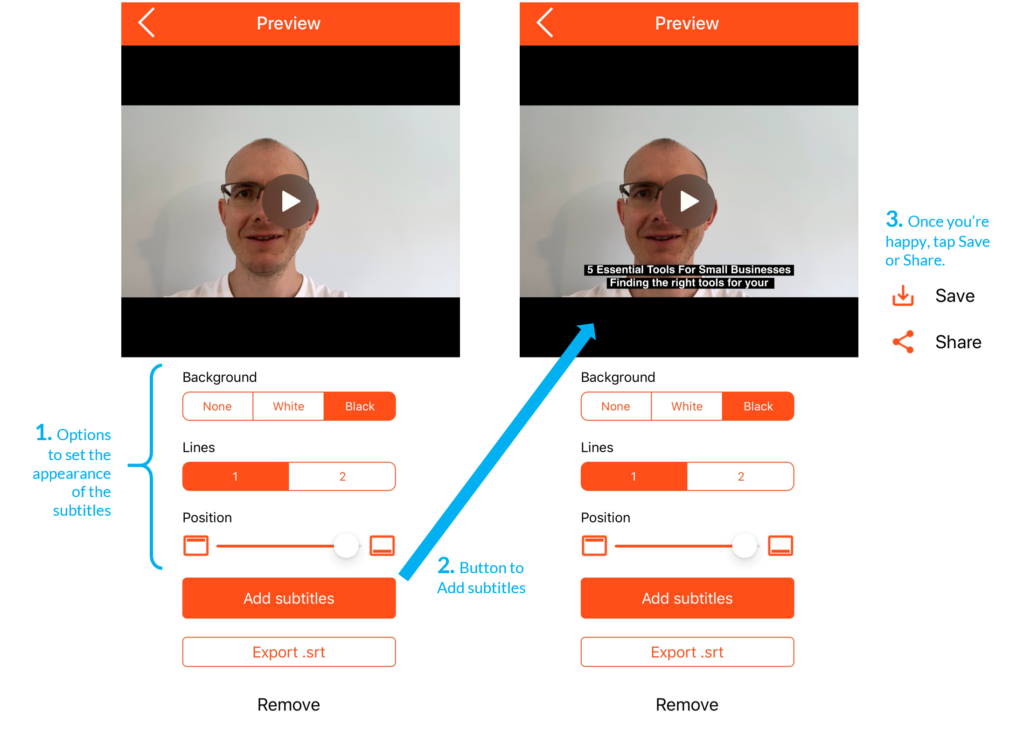 Export .srt
An .srt file is a file which contains text and timing information about subtitles. It is a standard format which can be imported into most video platforms such as YouTube, Facebook, Vimeo, LinkedIn. When you import subtitles using these platforms, the subtitles are displayed on top of your video, depending on the preferences of the user.
If you are unsure whether you want the subtitles or not, the best option is to Save the video without subtitles and export the subtitles as an .srt file. This then gives you the flexibility to add the subtitles later, and change them if needed.
Removing subtitles
When you add subtitles in the Teleprompter for Video app then they are 'burned' into the video and cannot be removed after saving. If you are still in the Preview mode, then subtitles can be removed by tapping the Remove button. Make sure you always save your video after making any changes in preview mode.
Timing the subtitles
Try to always read the script when it is in the black area next to the camera lens (in the middle of the screen when recording landscape, or at the top of the screen when recording portrait).
Make sure to arrange your text into sentences. The app splits your script into sentences and then sets the timings based on when the sentence scrolls through the black area. Try to avoid long sentences which the app has to split into multiple subtitles.
If you use countdowns to pre-roll the script or end the recording, allow them to finish. The subtitles take this into account when calculating the timings so if you stop a countdown early this will impact your subtitle timings.
Using a mid-sized font eg. 30pt will help to ensure you can easily read the words whilst keeping them in the black area.
Using line breaks can be a good way to pause between sentences.
Practice and have fun.
Other tips for getting perfect subtitles
Here is a video example using subtitles